Bodycomp
Case Study
A Seamless Integration of Body Composition Scanning Services with Jevitty App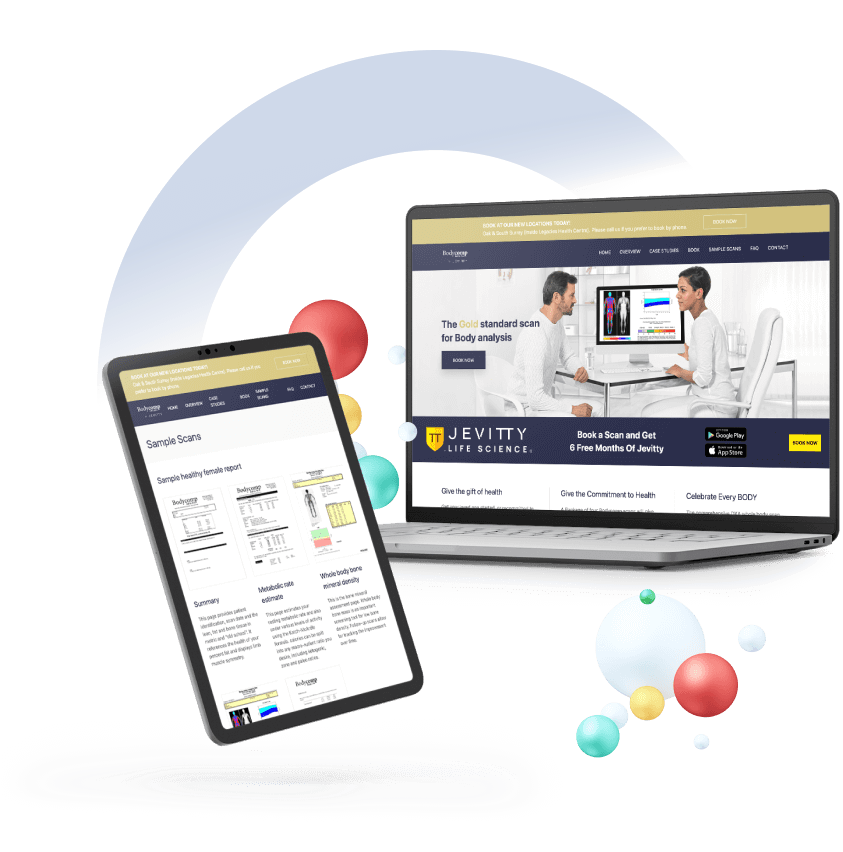 Clients
Jevitty Life Science Corp.
Bodycomp Imaging
Vancouver, BC
Industry
Health and Wellness
Healthcare
Body Composition
Scope
Tech Strategy
UX-UI Design
Web Development
Mobile App Integration
Technology
Python, Django
PosteSQL
Google Cloud
UIKit
Introduction
Bodycomp Imaging Inc., a leading provider of body composition scanning services, was acquired by Jevitty Life Science Corp. to expand its offerings and enhance the value of the Jevitty app.
In this case study, we will explore the seamless integration of Bodycomp into Jevitty, the development of a technician admin platform, the rebranding process, and the creation of a new, mobile-first website.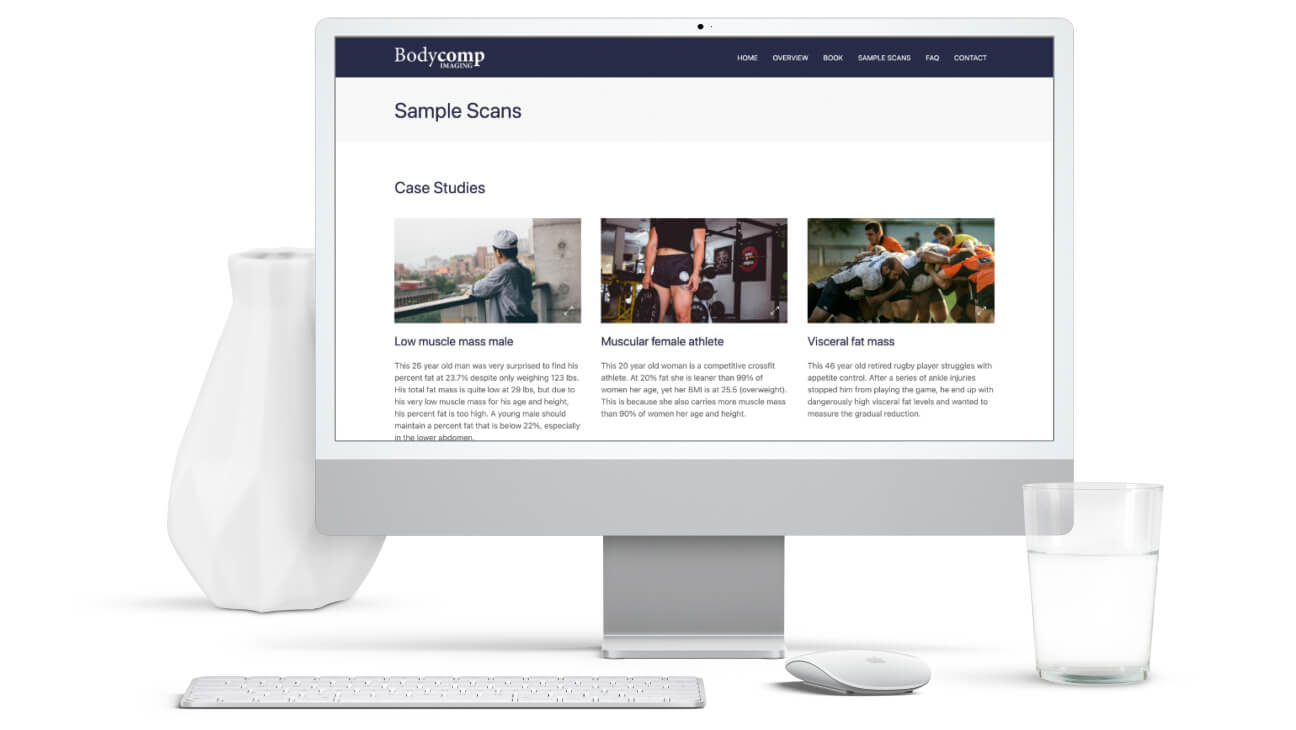 Process & Data
Bodycomp Imaging is a leading provider of body composition scans in the health and wellness industry, utilizing superior Hologic scanners for high-resolution medical imaging.
Their state-of-the-art scanning services deliver valuable insights into an individual's health and fitness by measuring various parameters, such as body fat percentage, lean muscle mass, and bone density.
01

The client is positioned

on the scanning bed at one of Bodycomp's locations.

02

A low-dose X-ray

scans the client's body using advanced Hologic imaging technology.

03

A detailed report is generated

, including images and measurements of the client's body composition.

04

A trained technician

reviews and interprets the report for the client, providing guidance on how to improve their health and fitness based on the results.

05

The client can access their complete body composition report

on the Jevitty app and take advantage of tracking of their daily health metrics.
To illustrate the seamless experience at Bodycomp, here are some photos taken during a patient's visit. These images demonstrate the professionalism and comfort provided by Bodycomp's facilities and staff, making the scanning process accessible and informative for clients.
Bodycomp's cutting-edge technology and exceptional service make it an essential asset to Jevitty Life Science Corp's mission of promoting health and wellness. The integration of Bodycomp's services into the Jevitty app offers users unparalleled access to personalized fitness guidance and valuable health information.
Integration with
Jevitty
The incorporation of Bodycomp's services into the Jevitty app has been a crucial step in enhancing its capabilities and providing a comprehensive health and wellness experience for its users. This integration offers multiple benefits:
Seamless access to Bodycomp scan results and personalized fitness guidance for Jevitty app users.
Consolidation of health data in one platform, enabling users to track their progress and set goals more effectively.
Enhanced user engagement through the combination of Bodycomp's scan data and Jevitty's algorithm-driven insights.
Strengthening Jevitty's position in the health and wellness market by offering a unique and superior service.
Expanding the range of services Jevitty can offer, creating a more comprehensive and holistic user experience.
The successful incorporation of Bodycomp's services into the Jevitty app has greatly enriched the overall value proposition of the platform. As Jevitty continues to grow and evolve, the synergy between the two services will become increasingly important in delivering an outstanding health and wellness experience to users.
This integration has additionally driven the development of the Technician Admin Platform, ensuring that Bodycomp's services and data are effectively managed and securely accessible within the Jevitty app ecosystem.
The Pieoneers team ensured a smooth integration
The decision to integrate Bodycomp's scanning services into the Jevitty app has been pivotal in creating a superior offering in the health and wellness market. As an experienced business leader, I understand the importance of comprehensive solutions that cater to our users' needs.
The Pieoneers team ensured a smooth integration, enhancing the overall value of our app while staying true to our mission. Their technical expertise and dedication to our vision have been invaluable in solidifying Jevitty's position as a leader in the health and wellness space. I am extremely pleased with the results and proud of what we've accomplished together.
Jerry Kroll CEO at Jevitty Life Science Corp.
Technician Admin Platform
Pieoneers developed a secure technician admin platform to streamline the management of patient information and seamlessly integrate with the Jevitty app.
The platform is built using a combination of proven, stable, and efficient technologies. Two-factor authentication was implemented alongside other security and privacy standards to ensure the safety of sensitive data.
Securely manage patient information, including medical images and reports.
Provide a secure API for the Jevitty app to access medical images and reports.
Enable technicians and admins to easily create, view, and update records.
Ensure secure integration and encrypted data storage.
Smart PDF parsing is employed to facilitate efficient handling of scan reports.
The Bodycomp platform has significantly improved the way technicians and administrators manage patient information, enhancing overall efficiency and providing a solid foundation for the successful integration of Bodycomp's services into the Jevitty app.
The new system significantly improved my daily workflow
The new admin system created by Pieoneers has significantly improved my daily workflow as a head technician. Uploading and accessing patient information has become much more efficient, allowing us to compare past and present scans with ease. This enables us to provide valuable health and wellness insights to our clients. As a technician, I truly appreciate the thought and care put into designing this intuitive and efficient system.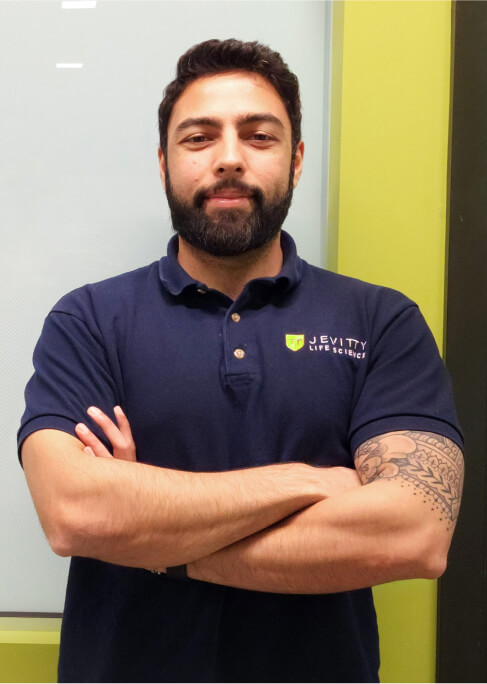 Harmun Sehmby Head Technician at Bodycomp Imaging by Jevitty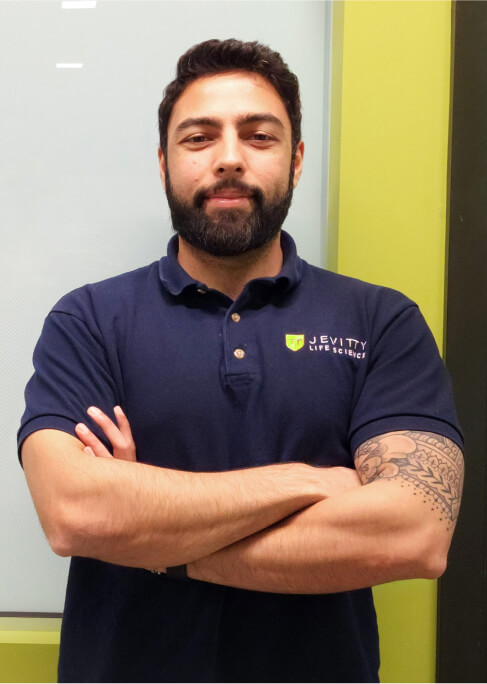 Integration with
Jevitty App via API
The technician admin platform was seamlessly integrated with the Jevitty App through a well-designed API schema. The schema includes components such as patient data, medical images, scan summaries, and scan deltas for patients with multiple reports.
Website Update
Recognizing the crucial importance of a compelling digital presence, Bodycomp sought our expertise for a major revamp.
The old website suffered from a number of issues, including an outdated design, poor mobile responsiveness, and difficulty in updating content.
To address these problems and better position the company as a leader in the health and wellness space, Pieoneers developed a new, modern website with the following improvements.
01

Enhanced user experience.

Streamlined navigation and layout to facilitate user engagement and improve overall user satisfaction.

02

Mobile-first design.

Ensuring a seamless browsing experience for users on smartphones and tablets.

03

Refreshed brand identity.

Incorporating the new Jevitty Scan by Bodycomp Imaging branding for a cohesive and professional appearance.

04

Easy content editing.

Allowing administrators to quickly update the site's content without technical hurdles.

05

Optimized Performance and Speed.

Implemented modern technologies to improve website speed, reducing drop-offs and enhancing user satisfaction.
The new website not only overcame the challenges of the old static site but also established a strong digital presence for the company in the competitive health and wellness industry.
Conclusion
By partnering with Pieoneers, Jevitty successfully turned their ambitious vision for a health and wellness app into a reality. This fruitful collaboration throughout all project phases led to the development of the Jevitty app. This innovative and impactful app distinguishes itself in the competitive health app market, laying the foundation for future growth and success.
With its inspiring brand identity, seamless mobile app, and a robust architecture, Jevitty is well-equipped to advance its mission of transforming society's perspective on aging and health while appealing to new users and investors.